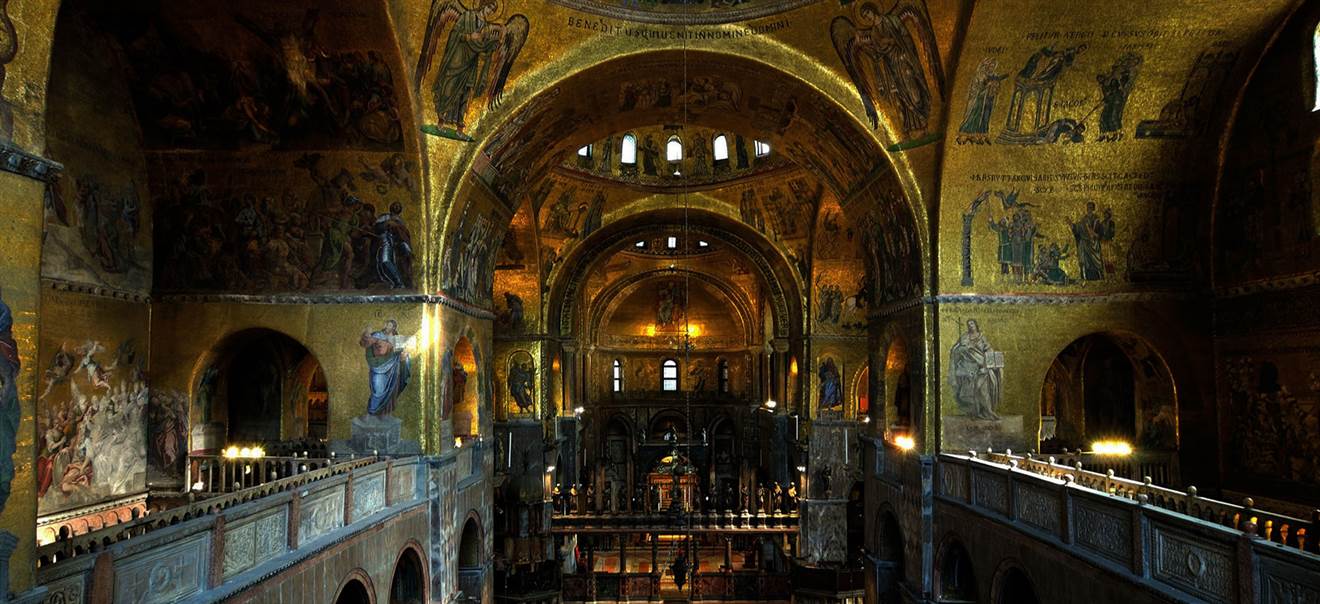 Saint Mark's Basilica - Skip the line!
To product
On this essential Venice guided walking tour, you will be intrigued by the fascinating history of La Serenissima and discover what it is like to live in this unique city.
While walking around this open air museum our informative guide will take you to the external sights of Saint Marks square, the Doges palace, the Sansovino library, the Bell tower, the incredible legends of the Clock tower and the Bridge of sighs and its adjoining prisons. You will discover the extraordinary architectural master pieces and why they were built that way.


Learn how Venice lost out on the trade routes and when the New World was discovered, leaving Venice medieval forever.(avoiding the public queues with our special pass) We enter inside Saint Marks Basilica, which majestically symbolizes the lagoon and enshrines the city's history and Saints relics. With its awe – inspiring gold mosaics our talented guide will walk you through to one of the main highlights of the Saint Marks Basilica, the "Pala d'Oro" (Golden altar), with masterpieces by generations of Venetian Goldsmiths, universally recognized as one of the most refined and accomplished works of Byzantine craftsmanship and the most precious treasure in the Saint Marks Basilica.


Take advantage of our expert guide, hear anecdotes about this remarkable city and its historical characters, Casanova, Marco Polo to name two. This walk is an absolute must for the first time visitor, leaving you knowing so much more about this not so practical but precious city.
Highlights:
Skip the line!! Avoid the public queues with our special pass
Exteriors sites of Saint Marks Square
Inside the Basilica of Saint Marks
"Pala d'Oro" - Golden Altar
Languages: English
Departure time: 12:00h
Meeting point: St Marks Square, under the clock tower in front of YEX office
Duration: 1 hour
Please note:
Guide has microphone during this tour
Large bags and rucksacks are not allowed inside the Basilica, shoulders and knees must be covered when entering into churches
Upstairs of church is not included
On very few occasions the Basilica may be closed due to public holidays, private events or "high water".