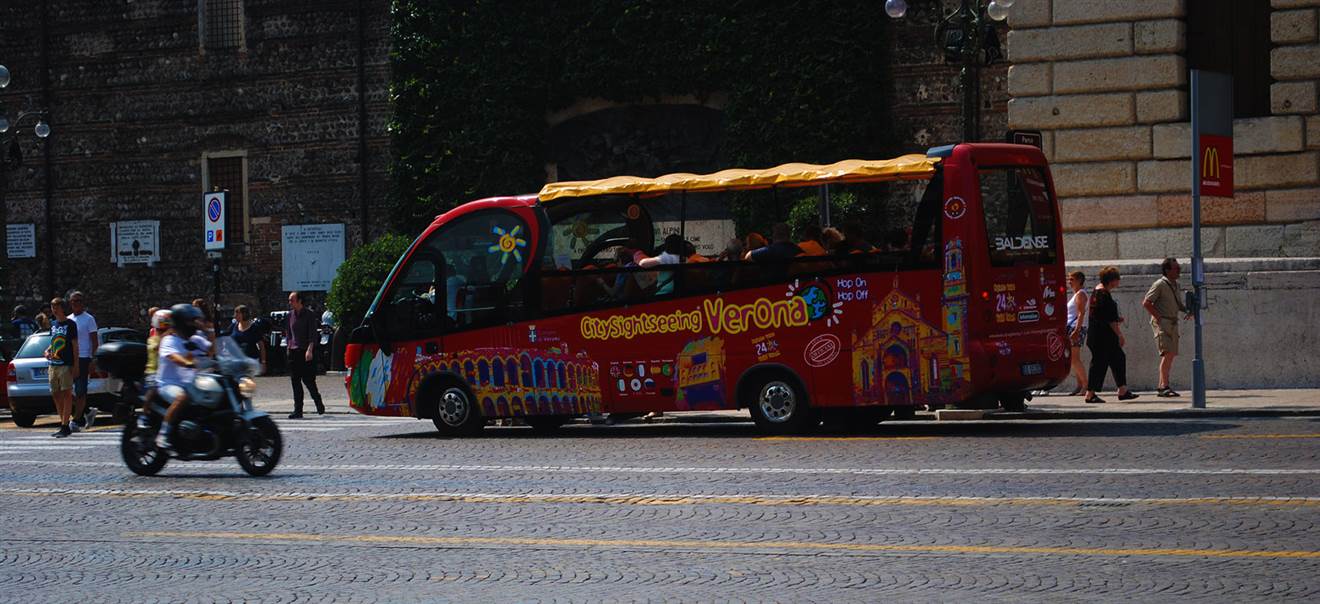 Verona Hop-On Hop-Off Bus
To product
City Sightseeing® Verona Bus will take you all around this beautiful city, past its walls, castles, fortresses and landscapes, which narrate a history of wars but also of economic splendour. During your journey on the bus you can listen to the commentary and learn about the culture, history, traditions, folklore and food of the city. 
There are two different tours, both starting from Piazza Brà. Both tours last 60 minutes. Buses leave every hour.
Line A:
After leaving the terminal in Piazza Brà, you will see the Pravadal Gardens, the medieval walls and the quarter of San Zeno with its famous Cathedral which is considered one of the most beautiful Romanesque churches in the North of Italy. Later, by heading towards the river Adige, the bus reaches Castelvecchio with its many elegant statues, paintings and frescos. The next stop is Porta dei Borsari which, like Porta dei Leoni, is one of the main entrances to the Roman City. At the 7th stop of this tour you can visit the renowned Roman Theatre and the Ponte della Pietra, the oldest monument in Verona.
Line B:
This route allows you to visit the eastern area and later reach Castel San Pietro, one of the most picturesque sites in the city. By driving down the hilltop the bus will reach the historic quarter where it will be possible to admire the characteristic bell towers of the Cathedral and of Santa Anastasia. In this area it is possible to reach Piazza Erbe, the ancient Roman Forum, and Piazza dei Signori, better known as Piazza Dante. The last bus stop of this tour is very interesting because it is near Juliet's House and the most convenient place if you want to alter your route between Lines A and B.
Both bus tours return to Piazza Brà.
Tour operates from March to October. 
Disabled access.
Commentary in a variety of languages.